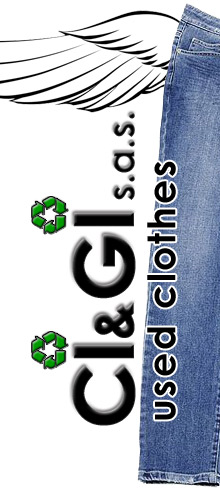 The

"Ci & Gi"

society was first established in 1996. It carefully stocks an assortment of textile products, chosen and selected from all of the main world supplier markets (Italy, Switzerland, Austria, and the USA ) , offering an impressive range of second hand clothes and accessories for the wholesale market.

Whether you're seeking a fair second hand supplier or a professional experience with a unique choice to suit any taste you can trust it. Actually its experience expands across the years thanks to the continuous reference of its clients.



Ci & Gi

offers a wide and unique range of products , supplying the domestic and foreign wholesale market with a wide variety of products to choose from any season of the year .